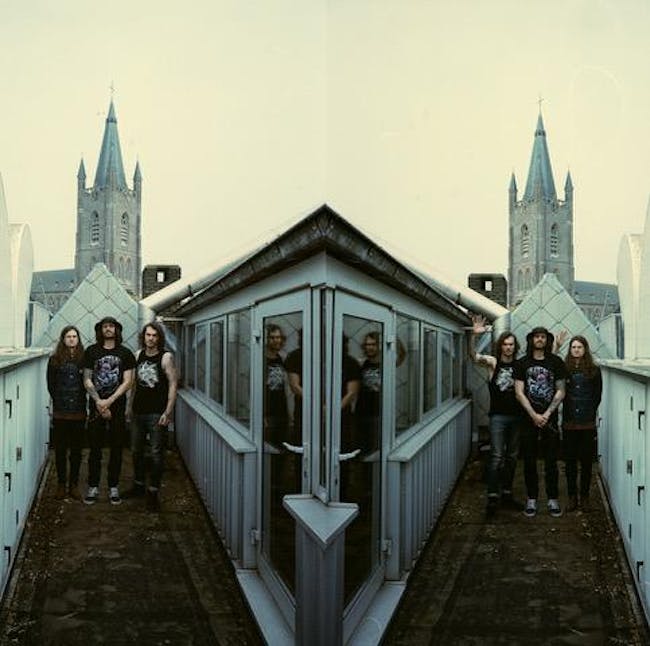 All Them Witches
Blackwater Holylight
Gateway City Arts
Holyoke
,
MA
All Them Witches w/ Blackwater Holylight at Gateway City Arts - Holyoke, MA
The All Them Witches show scheduled for April 22nd at Gateway City Arts has been cancelled. Refunds will be issued automatically. Any questions should be directed to Eventbrite at attendeesupport@eventbrite.
Standing Room Only
Food and drink is available at GCA before and during the show. Come early to dine at Judd's, a new Czech-American restaurant, open from 5-10pm (reservations are strongly encouraged), or grab a taco (or 3) at Race Street Tacos from 6-10pm.
By most fifth LPs, the band's sound is pretty set. Parameters established. Refinement dissipated. You get a to-formula execution of what's worked in the past. Fair enough. All Them Witches go a harder route.
In 2017, the Nashville four-piece offered what might've otherwise become their own template in their fourth album (second for New West), Sleeping Through the War. It brought a larger production value thanks to oversight from producer Dave Cobb (Jason Isbell, Shooter Jennings, etc.), found them using choral vocals, expanded arrangements, bigger sounds than anything they'd done before.
They could've easily fallen into a pattern of watered-down clones of that record. Easily.
So naturally in a year they've thrown it all to the Appalachian wind, turned the process completely on its head and gone the other way: recording in a cabin in Kingston Springs, about 20 miles outside of Nashville on I-40, with guitarist Ben McLeod at the helm. Self-produced. Take that, expectation.
The result, mixed by Rob Schnapf (Beck, Elliott Smith, Kurt Vile), is the most intimate, human-sounding album All Them Witches have recorded and another redefinition of who they are as a band. Introducing keyboardist/percussionist Jonathan Draper to the fold with McLeod, bassist/vocalist Charles Michael Parks, Jr., and drummer/graphic artist Robby Staebler, All Them Witches' ATW isn't self-titled by mistake.
It's the band confirming and continuing to develop their approach, in the devil's boogie of "Fishbelly 86 Onions," the organ-laced groove and masterful flow of "Half-Tongue," the build of "HJTC" and the fluid jam in closer "Rob's Dream." You can hear it in the mellow patience of that last track, never lost but always wandering, and in "1st vs. 2nd," where they turn from a frenetic shake to some purposefully metal-ish riffing while still holding onto gut-tightening tension.
And what do they do with that? Some overblown payoff? Hell no. They cut it short, drift into noise and then dig into "Half-Tongue" ahead of the moodier "Diamond," which, true to its name, seems to turn any light that touches it into a prism. This is a band who delight in the exploration, in finding new rules to break, and in continually learning new ways to do so.
ATW is a reaction to being a "bigger" act. To playing bigger shows, bigger tours, etc. From the sustained consonants in Parks' vocals, to the sleek basslines that play off the can't-sit-still-won't-sit-still swing in Staebler's drums, to McLeod's commanding slide in "Workhorse" and drifting melancholy at the outset of "Harvest Feast," ATW is their laying claim to the essential facets of their identity.
And most crucial to that identity is its shifting nature. All Them Witches didn't get to this point by resting on laurels, and if anything, the urgency of these tracks – fast pushers and sleepy jams alike – is among their greatest strengths.
It's a rawer delivery, as stage-ready as the band itself, and it captures All Them Witches in this moment. Is ATW who they'll be tomorrow? Who the hell knows? Check back in and we'll find out together. That's the whole idea.
Blackwater Holylight, as the name suggests, is all about contrasts. It's a fluid convergence of sound that's heavy, psychedelic, melodic, terrifying and beautiful all at once.
As a heavy band, their songs aren't anchored to riffs, but rather riffs come and go in waves that surface throughout the band's meditative, entrancing songs. It's a hypnotic sound, with orchestral structures that often build tension and intrigue before turning the song on its head — not by simply getting louder or heavier, nor by just layering elements. They expertly subvert the implied heaviness of a part, dissecting it and splaying the songs guts out to seep across the sonic spectrum.
Now, having toured together extensively following the band's wildly-successful breakout self- titled debut in 2018, Blackwater Holylight has honed their sound and identity to a powerfully captivating beast. Their live set is all about the slow build, seeming to combine the melodic tension of early Sonic Youth crossed with the laconic fever-dream blues of the first Black Sabbath album, and wiry experimentation of post-punk and krautrock.
The lineup on this album is Allison (Sunny) Faris (bass/vocals), Laura Hopkins (guitar/vocals) and Sarah McKenna (synths), with new guitarist Mikayla Mayhew and drummer Eliese Dorsay fleshing out their sound in exciting ways.
"The process of this album was vastly different from our first record," says Faris. "One, because we recorded it over the course of a few weeks, whereas the first record was over the course of about a year. And two, this album was a true collaboration between the five of us. Each of us had extremely equal parts in writing and producing, we all bounced ideas off each together, and we all had a say in what was going on during every part of the process."
"One of our favorite things about this album is that because it was so collaborative, we didn't compartmentalize ourselves into one vibe." She continues. "It's heavy, psychedelic, pop, shoegaze, doom, grunge, melodic and more. The whole process was extremely organic and natural for us, we were just being ourselves."
Veils of Winter opens with fuzzed-drenched, drop-tuned bass and baritone guitar leading a dirge riff on "Seeping Secrets." Faris' lilting and funereal vocals drop in, adding to the mournful atmosphere until a short turnaround progression hints at changes to come, as Faris and Hopkins harmonize eerily and the tune suddenly turns into a krautrock charge. "Motorcycle" kicks off deceptively with a heavy grunge riff building up for about 40-seconds before the song abruptly shifts gears into a synth-led post-punk harmony, sounding something like Lush meets Syd Barrett era Pink Floyd. "Death Realms" is perhaps the poppiest track, based around soaring shoegaze guitars and interwoven light vocal harmonies. Soft piano notes, occasional woozy whammy bar dives and a driving tom-tom beat solidify its hooks. "Spiders" is a creepy- crawly guitar riff and counterpoint keys, while "Moonlit" explores prog-structures with a shredding guitar solo crescendo. The penultimate track, "Lullaby" is exactly that, a lulling, expansive tune exemplifying Blackwater Holylight's genre smashing sound as it subtly moves across a vast sonic landscape atop a hypnotic 6/8 beat and repetitive 3-note motif. Throughout the album, their songs shirk traditional verse-chorus-verse structure in favor of fluid, serpentine compositions that move with commanding grace.
Veils of Winter will be available on LP, CD and download on October 11th, 2019 via RidingEasy Records.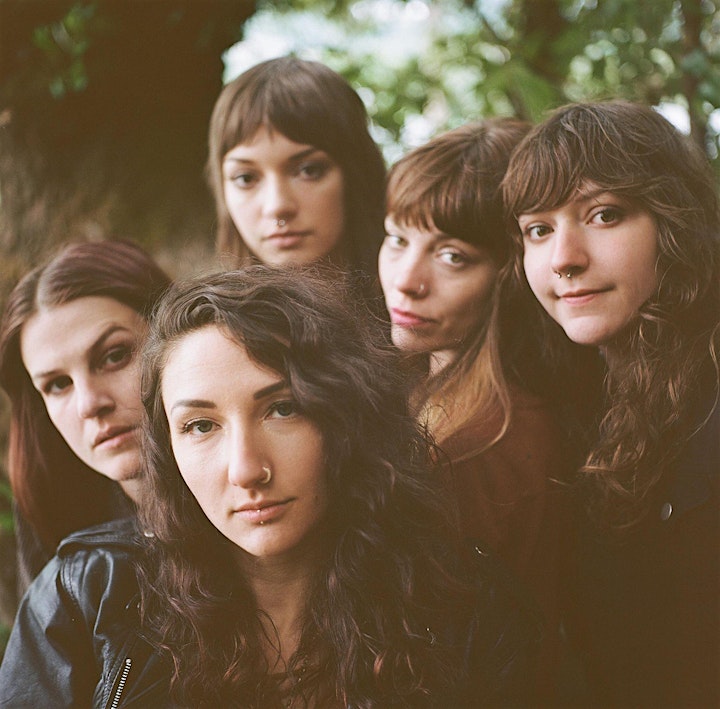 Venue Information:
Gateway City Arts
92 Race Street

Holyoke, MA, 01040