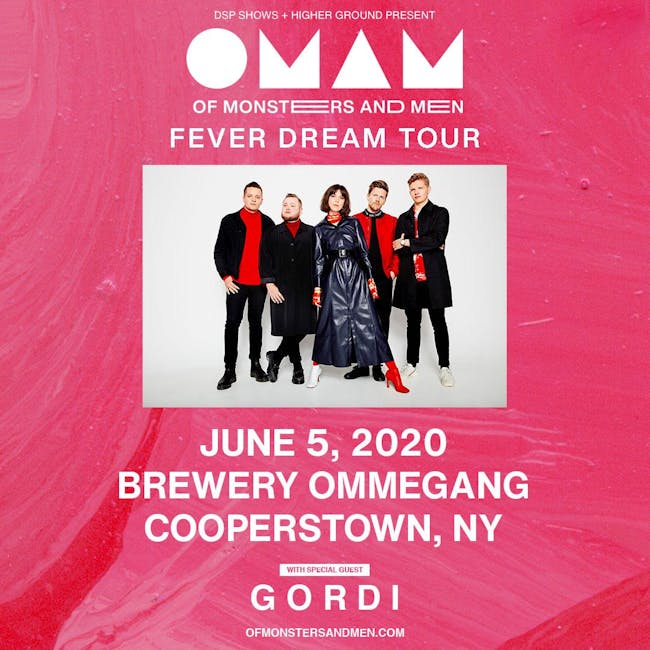 Presented by DSP Shows + Higher Ground
Of Monsters and Men
Gordi
Brewery Ommegang
Cooperstown
,
NY
$45.00 - $50.00
Postponed
Of Monsters and Men: FEVER DREAM TOUR with special guest Gordi at Brewery Ommegang in Cooperstown, NY
You think you know the Icelandic band Of Monsters and Men, but you have no idea. Within the first minute of their new single 'Alligator' you'll be wondering if this huge anthem is the brainchild of the Yeah Yeah Yeahs fronting Arcade Fire – all thumping drums, brimming guitars and a call-to- arms chorus about taking control. During a day of final mixing at the LA studio of their co-producer Rich Costey (MUSE, Vampire Weekend, Chvrches), the five-piece gather in stages. The first to walk in are joint vocalists/guitarists Nanna Bryndis Hilmarsdóttir, Ragnar Þorhallsson and bassist Kristjan Pall Kristjansson. They're here to put the band's forthcoming third album 'FEVER DREAM' to bed. It's been in the offing for three years but – finally – it's soon to be out of their hands. Shortly behind them like a pair of mischievous school stragglers are the remaining members: drummer Arnar Rosenkranz Hilmarsson and youngest of the pack – guitarist Brynjar Leifsson.
To dub the story of this band a "fairytale" does a disservice to the amount of determination and grit it's required to get them to where they are in 2019. When reminded that it's almost ten years since the beginnings of the band (from the ashes of Nanna's solo project), they exclaim: "Jesus Christ!" The past decade has been a whirlwind completely beyond their collective imaginations. It started when a radio staton in Philadelphia – Radio 104.5 – began playing a demo of the song 'Little Talks' in 2011. OMAM were very freshly formed, but suddenly they were on the tip of every industry person's tongue. They signed with Republic, went to SXSW in a van and left in a fully- fledged tour bus. Their debut album – which by everyone's admission was essentially scrappily made in one weekend – followed swiftly, titled 'My Head Is An Animal'. It went multi-platinum. Thereafter the band toured, developing a live reputation all over in huge venues and at massive festivals. Their plaudits were on a par with rock bands three albums deeper.
The juggernaut didn't let up from there. After those explosive first years in which they toured relentlessly, conquered many festivals, wowed TV audiences most significantly with an SNL performance in May 2013, the band retreated to Iceland, their studio and their instruments to make a follow-up 'Beneath The Skin'. That second album catapulted them around the world even more, contributed to OMAM being the first Icelandic band ever to hit 1 billion streams on Spotify and even earned them a cameo appearance on season six of Game of Thrones in 2016. None of this, of course, is regrettable. And yet it hasn't been until recent months that the fivesome have really begun to realize that their trajectory has been relentless ever since 'Little Talks' – a mega hit that was never really intended to be the song. Everything up until 2017 had somewhat existed to serve that initial momentum. The past two years have allowed them to re-posture, re- group and step away from a reaction stance. They've learned not just who they are as musicians but how to fall in love with music again.
First, let's consider the music. There's a preconceived notion about the typical Of Monsters and Men sound: stadium folk flourishes, choruses of "hey! ho!"s and metaphors about extreme landscapes. But there has never been a typical Of Monsters and Men sound. Their back catalogue outside of their signature singles has showcased a diverse palette of balladry, danceable belters, and weirder synth moments. On their third album, that will be a fact too front and centre to ignore. They began working on it in the Spring of 2017, after they stopped touring in winter of 2016. It's the longest gestation period they've ever experienced while making an album.
"We immediately started to do it differently," says Nanna of their process this time around. OMAM operate as a democracy. In the past that manifested as the five of them being in the rehearsal space, working on one idea until everyone had their own instrumental stamp on a song.
It was arduous, it was stressful and it was very difficult. This album has been hard work too: it's been a long winding road, and required a lot of patience. However, in so many respects it's the more satisfying version. The pressure within the democracy required a different type of
vulnerability among them. Rather than being forced to show themselves to one another on the spot in that previous rehearsal space, this time they all spent an extensive period apart, and each contributed ideas they'd produced at home on laptops. This was completely novel to them and a far vaster challenge.
At first there wasn't a clear-cut direction, just diverse ideas informed by five people with very different tastes. Ragnar, for instance, is always influenced by the staying power and sonic identity of a band like The National. Nanna, on the other hand, took her maverick inspirations from artists equally as integrity driven: Solange and Childish Gambino. "The driving force for this album was curiosity," says Nanna. "Curiosity to do things in a new way – not using a guitar to write, finding something else that excites me." Even Ragnar put down his guitar, no longer feeling like he needed to justify his presence in the band via one instrument. "I would play acoustic guitar on every fucking song on the album," he says. "Now I have no idea what I'll be doing live, what instruments I'll be holding, or if I'll be holding any!" Nanna smiles. "We eliminated the roles we had in the band and not in a bad way. It's more open. It gives you more space to explore yourself as a musician." It's grown the trust they have in one another too. "Having everyone's fingers in everything can flatten things," says Ragnar. "If you mix every color together you just get brown."
The songs themselves are certainly not brown. They're also not couched in one style. Arnar: "If one song wanted to be a full-blown 80s track, we'd allow it to be that. If another wanted to be a rock track we'd allow it to be that." It is reflective of the landscape of big rock acts now too that genre has become less debilitating and doesn't stipulate that bands need to perform within a certain framework. "We've always been drawn to that," nods Nanna. "When a lot of people hear our name they think of us as a folky acoustic band. We've never been one thing. These days, we feel free to go to extremes." Brynjar agrees. "We wanted to explore everybody's palettes and do what we wanted to do: just try everything."
Lyrically the album is more personal than ever, which makes sense when Nanna and Ragnar reveal that this is the first album they've written lyrics for apart from one another. In conversation it's hard for them to get too specific on details. "For me, they're about personal struggles." The way Ragnar has written his lines has been inspired by gut emotions. He'll take a thought and run with it to its completion and no longer hides from his feelings. In the past they'd workshop lyrics as a joint exercise until they were masked enough to apply to everyone. For Nanna, her lyrics' meanings reveal themselves to her over time. "You sing something and you think it's gibberish, then weeks later listen and think it's the most spot-on thing you've ever said. This time we only came together at the end to help each other where we could."
That co-counselling speaks volumes to their friendship, and the power of music within their most intimate dialogue. Despite the struggles, the band wanted the songs to contain more light and joy – a catharsis to push through the anxieties they're expressing. The way in which Nanna's voice relates that dialogue to the world is the most evolved of anything here. It's almost beyond recognition. Her voice growls like there's something between her teeth. It's a confidence thing, admits Nanna. "I'm at the point where I know what works for me and what I want." 'Alligator' is the first indication of that.
"We could have just gone on for years and never made any decisions," laughs Ragnar of doing these final stages with Costey. Of Monsters and Men are a band who are in it for the long haul and have taken the time to craft their sound, culture and universe. "We don't want to repeat what we've done," says Nanna. "It's important for us to have a long career, make albums we're proud of and take our time." It's a statement that's comfortably at odds with the fast-paced music scene of today. In the end it'll be all that matters. Most of all, the band are itching to get back out into the live arena – and to learn how to celebrate and let loose more. They bought an inflatable lifeboat
years ago for Nanna to use for crowdsurfing. It never got used. "I would love to crowd-surf with the boat!" she exclaims at the reminder. Anchors aweigh, Of Monsters and Men are ready to set sail.
A year on from releasing her debut album, 'Reservoir' in 2017, Gordi has only just clawed her way out of the other side. "I felt like I'd been spinning for the past few years, going at this constant rate," she ponders, speaking from her family's farm "Alfalfa" in the rural Australian town of Canowindra.
With a medical degree now finished, but with some hospital rotations to complete throughout 2019 (kicking off in the psychiatric ward), Sophie Payten is thrilled to claw out the other side to unveil an acoustic reimagining of Reservoir. The 5 track EP, led by the spacious "Something Like This," was entirely performed, arranged, engineered and produced by Payten. Recorded in her Sydney living room, Gordi showcases her production nouse adapted from her time working alongside Alex Somers, Tim Anderson, Ali Chant and the Bon Iver crew in Wisconsin.
Alongside bearing her first full length 'Reservoir' to the world, and trying to squeeze in a few international tours, all at the same time as her medical studies -- that flurry of activity was followed by a difficult period of serious burn-out. After recording her first full length all over the world -- hopping between Iceland, LA, and Bon Iver's Wisconsin studio, her sudden jolt back to reality proved taxing. "I released my debut album, and two weeks later I sat all my final exams," Sophie Payten -- aka. Gordi -- remembers. "I was very close to having a nervous breakdown, but got through it. I needed to take some time for myself. I had nothing to write about."
Though Gordi's based in Sydney these days, she returns to Canowindra often to find much-needed quiet. While there, she picks up shifts at her old job, weeding baby roses at a remote nursery out of town and running away from the occasional redback spider.
"To use huge cliches it keeps me grounded and makes me a better human," Sophie explains. "I was in LA, like, a month ago, and three days later I was back here in gum boots pulling weeds, 20km out of town. As my grandma said, 'how the mighty have fallen.' Coming to places like this I get in quite a sort of meditative headspace."
Replenished in a practical sense, Gordi was renewed in a personal sense by a head full of inspiration, the start of a new relationship and a new perspective on emotional connection. "I basically believe in fluidity of all things," she says. Reflecting on a period of personal transition, Payten elaborates, "I met this person who changed my whole view of everything, and that has been a big part of me being refreshed and having a better disposition."
Gordi then turned her attention in a different direction, pondering the sort of artist she wanted to become. After so much isolation -- the loneliness of long tours, the chosen silence of Canowindra -- she found herself searching for a musical community. "I wanted to do things outside of being strictly Gordi, I wanted to become more of a collaborative artist." At one point in this winding journey, she found herself stood next to Memphis musician Julien Baker. The pair played a 40 minute improvisational set in a place called Music Box Village, using nothing but a musical treehouse. As you do.
It's an eccentric insight into the creative world started by Justin Vernon of Bon Iver. The pair met years ago when Gordi joined them on vocals for a performance on Jimmy Fallon. That initial collaboration led to some US and European shows together, culminating in Sophie borrowing Vernon's Eau Claire studio to record part of her debut, and has since become part of the same circles. Pushing herself towards new experiences with Julien Baker at Vernon's Eaux Claires festival in Wisconsin, she also performed with Big Red Machine, and The National, collaborated as part of the PEOPLE residency and festival in Berlin and has begun mentally shaping her next record, too. Stepping far outside her comfort zone has proved liberating. "I'd be playing harmonium in a room of people playing free jazz, and I was like... this is not where I belong," she laughs. "But placing yourself in a community with like-minded artists has been integral, for me, with feeling energised by it all."
In her Atlantic crossings, Gordi spent several weeks in Iceland with producer Alex Somers working on the tracks "Bitter End," "Aeon" and "Something Like This," allowing the production of those tracks to be inspired by their dramatic, wintry surroundings; evoking a sense of isolation that complements her time in Wisconsin and back home in rural Australia. Somers and Payten first collaborated on mixing and production for her song "Wanting" which features on her first EP 'Clever Disguise.'
While finishing her full length, Gordi also met up with Troye Sivan, who has long been a supporter of her music since he chanced upon her 2016 EP, 'Clever Disguise' while on a long-haul flight. The two of them got together by a tiny white piano in Los Angeles. Three hours later, they had written most of 'Postcard' from Sivan's latest album 'Bloom.' "Most of what you hear on the song is just from that day. I really like what he's about, and I think with everything happening in the world, someone like him and what he stands for and what he promotes, has never been more important."
A trip to New York, where she put on a month-long residency at Brooklyn venue Baby's All Right with her friend and collaborator The Tallest Man on Earth, only solidified the importance of community. "It sounds super lame, but it was just about the music. It was really special," Gordi says. "While I was away in New York I wrote a lot of the second record, and this past month I've been meditating a lot about what it should be about, what it should be called, the visual aspects of it, and I think I have a clear vision in my head, which is nice."
Gordi ended up producing a handful of tracks on 'Reservoir,' and looking vaguely towards her next record she's eager to take the helm as much as possible when it comes to production and engineering. And on the flip side, revisiting 'Can We Work It Out' for one last time before moving forward -- an EP cut which also made its way onto 'Reservoir' -- she wanted to cut it loose and pass over the reins for a change. Pop whizz Shura, and Solange and Frank Ocean collaborator RAC have put their own spins on a track that, for Gordi, reflects an older headspace from the past. "This track has been around for a little while, and I owe that song a lot," she says.
Ultimately, a year of artistic growth has proved vital for Gordi moving forward. "I've been a little sponge for the past 12 months," she concludes.
Gordi wrapped up 2018 by being awarded the inaugural Songwriter Award at the Australian Women in Music Awards, before joining Sam Smith on his sold out arena tour around Australia and New Zealand. She kicks off 2019 with an Australian tour alongside Julien Baker, including a special hometown show at the local hall in rural Canowindra.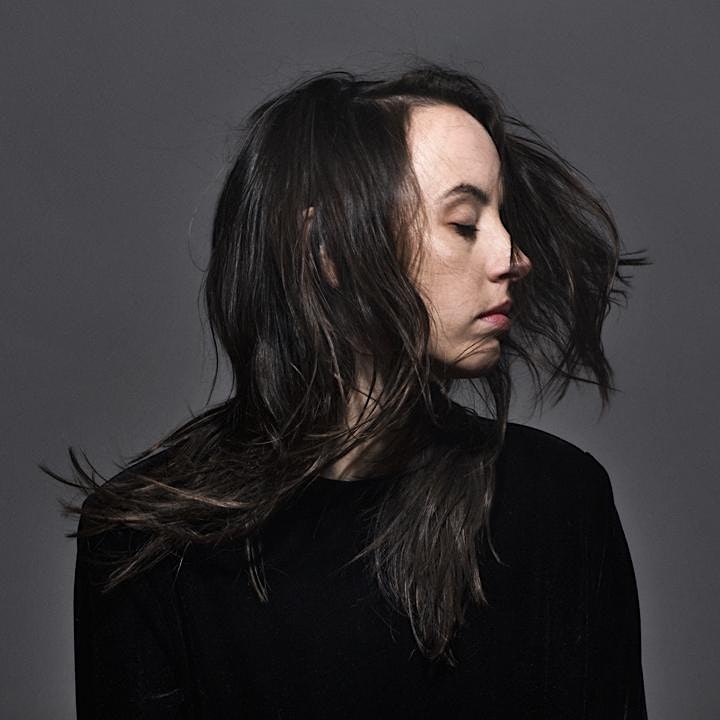 Venue Information:
Brewery Ommegang
656 Co Hwy 33
Cooperstown, NY, 13326