Ripe
Castlecomer
DO NOT USE
Ithaca
,
NY
$16.00 - $18.00
Sales Ended
Ripe
On a primal level, we react to music through movement.
A head-nod, a foot-tap, or a handclap certainly shows appreciation, but dancing seals the eternal bond between audience and musician. Siphoning the spirits of rock, funk, R&B, jazz, and pop through a kaleidoscope of unpredictable and virtuosic improvisation, Boston-based seven-piece Ripe consistently bring people to their feet. Most importantly, they prove that "dance music" in its purest form doesn't have to come from computers and synthesizers. It can be an unstoppable groove or an extended moment of ecstatic release. Like those bodies moving on the floor, it's the result of the energy, friction, and communication between living and breathing people. An inimitable and indefinable chemistry has separated and singled out Ripe since day one. Subverting any and all standard genre boundaries once again, their latest offering confidently continues that tradition. These seven musical soulmates —Robbie Wulfsohn [vocals], Tory Geismar [guitar], Jon Becker [guitar], Sampson Hellerman [drums], Josh Shpak [trumpet], Calvin Barthel [trombone], and Nadav Shapira [bass]—once again incite listeners to move on their independent full-length debut, Joy In The Wild Unknown.
"What we make is music you can dance to," affirms Robbie. "We're drawn to the peak of a song—the emotional catharsis when everything comes out. It's all about reaching that moment. The revelation comes back to us when bodies shake with joy."
"Every time we play, something unique happens," adds Jon. "You'll never see the same show twice. We want to bring that unexpected element into the pop sphere."
Ripe brings the swagger of funk filtered through a rock anthem, a musical journey that somehow gets as stuck in your head as your favorite pop banger.
"We're gap bridgers," adds Tory. "If you've never heard us, I like to describe our music as, 'If Maroon 5 and Earth, Wind, & Fire had a baby.'"
Formed during their Berklee College of Music days in 2011, the boys have built a rabid fan base through tireless gigging and a steady stream of music. Following 2013's Produce The Juice EP, the 2015 Hey Hello EP yielded fan favorites like "Brother Sky," "Talk To The Moon," and "Goon Squad," which clocked over 1 million Spotify streams. Averaging over 100K monthly listeners on Spotify, the group landed looks from the likes of WXPN, Huffington Post, Verge Campus, Boston Globe and Hype Machine love from sites like Ear to the Ground and Indie Obsessive. Along the way, they also hit the stage at festivals such as SweetWater, Levitate, The Rock Boat, High Sierra, LaureLive, Brooklyn Comes Alive, Audiotree, and Summer Camp. The common thread would always be the translation of their individual interplay to their audience, one that Ripe views as not just fans, but old and new friends; an extended family that is rapidly growing as their sound spreads and their world deepens.
"The community is so important," says Robbie. "We've got amazing fans who really show up for us. We want to integrate the camaraderie into everything we do. Now, the goal is to communicate our vision to a much wider demographic."
Joy In The Wild Unknown represents a creative culmination of a six-year journey. The band tapped the talents of producer Cory Wong of Vulfpeck behind the board. Additionally, five-time GRAMMY® Award winner Joe Visciano [Mark Ronson, Adele, Beck, Coldplay] mixed the music, while mastering came courtesy of Randy Merrill [Lady Gaga, Lorde, Imagine Dragons, Taylor Swift].
Over the course of twelve songs, it finds the elusive sweet spot between jaw-dropping technicality and airtight songcraft as Ripe collectively kick off a fresh, focused, and fiery next phase.
"It took us a long time to get to this album," Sampson admits. "It never felt right to do a full-length until now. Everything finally locked into place. Just prior, we'd been on the road for a year-and-a-half. So much was happening, growing, and changing. It was the moment to make the record."
"Simultaneously, this was the ending of a lot of things and the start of something new," adds Robbie. "This serves as our transition from a band that brings the party towards a band that brings an edge to the party."
Ripe introduced this body of work with the simmering bass line and wild wallop of the single "Little Lighter," which quickly shuffles into funked-up guitars and a swooning refrain—"I feel a little lighter."
Meanwhile, finger-picked acoustic guitar and a delicate beat drive "Downward" as everything climaxes on another festival-ready chant, "This love keeps pulling me downward."
A chorus of horns fuels "Flipside" before Robbie's dynamic delivery instantly hypnotizes. Throughout the verses, he shares "the crazy miasma of emotional ups and downs with touring."
Fittingly, the latter spawned the title, Joy In The Wild Unknown.
"Personally, I'm at the point where every day seems a little bit surreal, because I'm doing the thing I want to do more than anything else with my best friends," smiles Robbie. "Music is what defines us. It's what we get to put out into the world. I want to share this deep excitement and happiness. The phrase, 'Joy In The Wild Unknown,' spoke to all seven of us."
Ripe gives the same weight to happiness as is often given to sadness. Their music signifies more than just a distraction from your troubles for a few hours - it's an experience of connection and acceptance; a warm welcome into their world. In the end, this Joy is shared by an ever-growing community that'll be dancing every time Ripe roll through town. It's an extension of the bond between these seven.
"If you've never seen us, I want you to feel like you've stumbled on a real family upon introduction and get excited and curious about how to get deeper into this world," Robbie leaves off. "It's been about building this thing since day one. I hope you leave exhausted from dancing and feel excited to be a part of something. If you feel that way after seeing us, we've done our jobs."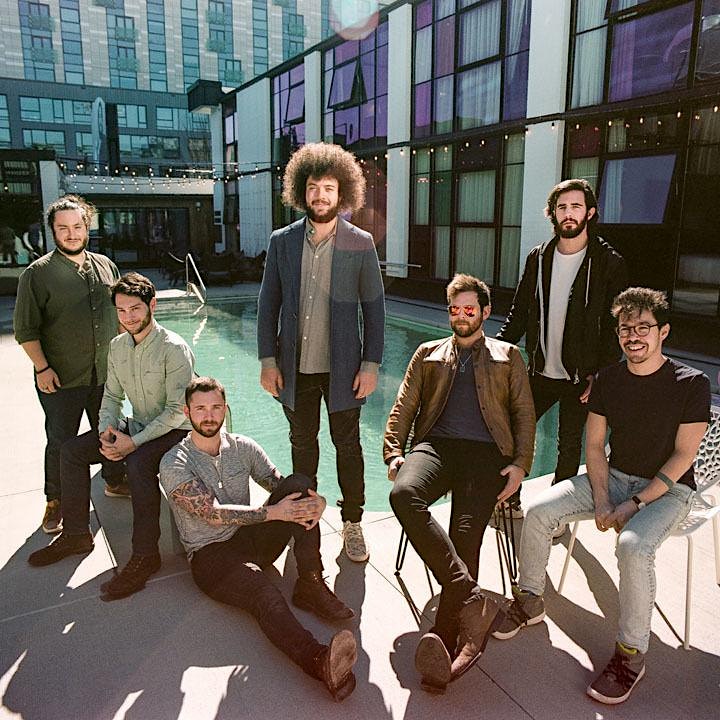 Castlecomer
"When I wrote 'Fire Alarm,' I decided then and there to quit my day job and focus solely on music," says Castlecomer frontman Bede Kennedy. "That song marked this cathartic moment where I really put a stake in the ground and committed to going all in. For the next twelve months, I did nothing but write for nine hours a day, every single day."
Kennedy clearly sensed he was on to something special with "Fire Alarm," but little did he know he'd just written the tune that would lead the Sydney rockers halfway around the world and propel them from local favorites to international breakout stars. With its driving beat and earworm of a melody, "Fire Alarm" was a runaway hit on Spotify, where it reached #6 on the Global Viral chart and racked up more than five million streams. The band garnered airplay everywhere from Australia's legendary alternative music station, Triple J to LA's KROQ to SiriusXM's ALT Nation and drew comparisons to The Strokes and Daft Punk, with Rolling Stone Australia praising their "amalgamation of emotion and unashamed catchiness." The band played more than 500 shows and festival dates Down Under, building up a devoted fanbase and honing their set into a concentrated blast of pure energy and ecstasy. By the time they got to SXSW in 2017, Castlecomer was ready to take America by storm.
"We didn't know anybody in the industry," says Bede, "but we felt confident that if we had the opportunity to get onstage in front of a lot of people, that would be enough. We played eight shows in three days and just tore it up. From those gigs, we got management, a record deal, publishing, and a booking agent. We're like the poster boys for what you can still achieve at South by Southwest."
Castlecomer has never been lacking when it comes to drive and ambition, and their tenacious belief in the potential of their band goes all the way back to its earliest days. Consisting of four cousins and a close childhood friend, the group began playing live during their teenage years and took their band name from a plaque mounted outside their grandfather's house, one they later found out referenced the Irish village his family had emigrated from. Much like the band's music, their name possesses deep personal meaning while still retaining an air of evocative mystery, hinting at places they've never been but still somehow course through their veins.
Australia's in their blood, too, and Sydney will always be home, but after signing with Concord Records, the band took a leap of faith in early 2018 and moved to Nashville.
"We wanted to live in a 24/7 music community," says Kennedy. "As soon we arrived, we discovered that there was live music happening from 1pm onwards in every bloody corner of the place. It was exactly what we needed."
Despite their newfound love for Music City, Castlecomer won't be spending too much time there this year considering the already-extensive headline and festival dates lined up behind their track, "Move." Recorded with producer Adrian Breakspear (Gang of Youths) and mastered by GRAMMY-winner Joe LaPorta (The Weeknd, The Killers, Foo Fighters), the track is a funky dance jam that pairs Kennedy's silky-smooth vocals with a disco-tinged arrangement that's pure 1970's bliss.
Such is the contagious energy of Castlecomer. One listen and you're hooked, sucked into their rapturous world of angular guitars and hypnotizing grooves. With a sound this meticulous and infectious, it's hard to believe that the band hasn't even released their debut LP yet, but these singles are only the tip of the iceberg from a group that's doggedly determined to fulfill every bit of their seemingly limitless potential. It's already been a wild ride, but Castlecomer is just getting started.
Castlecomer is: Bede – vocals Tommy – guitar Neely – keyboards Joe – bass Patch – drums
Venue Information:
DO NOT USE
702 Willow Ave
Ithaca, NY, 14850